Grain Storage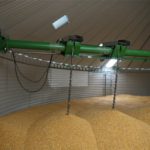 When you need commodity storage give us a call. Adams Grain Bins is the best place to buy premium grain bins by Sukup.
Our farm-bin sizes range from 1,800 bushels to 62,000 bushels (15' to 48' diameter). We have several versions to choose from including standard, stiffened, heavy-gauge drying, and heavy-gauge stiffened.
Our commercial-bin capacities range from 3000 to nearly 2 million bushels, with a roof loading from 5,000 pounds to 100,000 pounds. Commercial bins are custom-quoted for site-specific: soil, seismic, wind, and any other required ratings.
---
Corrugated Hopper Bottom Bins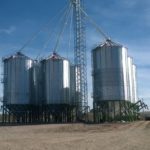 We offer Sukup Medium-Duty Hopper Bottom Bins up to about 8000 bushels, with standard 45 degree cones. 60 degree cones are available in select sizes.
For commercial and working operations we offer Sukup Heavy-Duty Hopper Bottom Bins up to 100,000 bushels.
---
Smooth-Wall Hoppers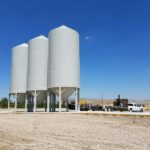 If you need to eliminate cross contamination look no further than Fortress™ Smooth-Wall Hoppers. Our standard sizes are available up to 6,000 bushels depending on location. These bins are perfect for seed storage and batch control operations.
---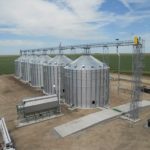 We carry the full line of Sukup unloading and material handling equipment, including: in-bin sweep systems, U-trough, bucket elevators, chain loop systems, drag conveyors, towers, catwalks, and more.
For farm bins, we recommend an 8-inch or 10-inch Sukup Sweepway™ for easy unloading and clean out of your grain bin. 10-inch systems are rated up to 4,000 bushels per hour. We have vertical unloading options for direct bin to truck loading, eliminating the need for a transfer auger.
For commercial operations in need of high capacities, we have conveyor unloading with in-bin sweep systems. Various capacities are available from 5,000 to over 20,000 bushels per hour. Where practical, we recommend the use of side-draw systems to reduce wear on handling equipment. Commercial sweep systems include Sukup-patented zero-entry commercial sweeps with capabilities up to 10,000 bushels per hour in both auger and Paddle versions.
---
Portable Augers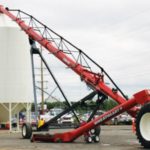 For bin loading we sell portable augers by Wheat-Heart from basic conventional augers, remote swing hoppers, and on-truck transfer systems. Wheat-Heart has an auger to meet your needs.
---
Sukup Grain Dryers (Continuous, Tower, and Mixed-Flow)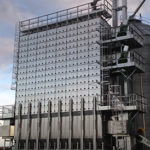 When you need efficient and easy grain drying systems please contact us. Sukup builds the most advanced and easy-to-operate grain dryers in the industry. With exclusive Quadra-Touch Pro control systems, you can easily monitor and adjust your dryer. The Quadra-Touch App for Android and Apple phones lets you monitor your dryer wherever you happen to be. The new, patented vacuum-cooling on the Sukup mixed-flow dryer makes it the most energy-efficient grain dryer available, reducing operating costs and boosting your bottom line.
---
Full Air Floor Systems Including Fans and Heaters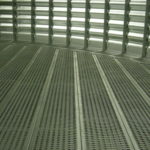 All farm bins come standard with full air floor systems including a fan. To speed in-bin drying we can also install a low-temperature heater, or with the use of an in bin stirring machine we can use a high-temperature heater. In-bin drying is an efficient and cost effective way to dry grain for operations handling fewer than 80,000 bushels per year. For larger capacities, please consider a dedicated grain dryer.
---
Custom and Other Products
Need something grain storage, handling, or drying related that isn't listed here? Please don't hesitate to give our helpful sales staff a call. If we don't have what you need, we will do our best to point you in the right direction.
---